2023 2nd International Conference on Applied Mathematics and Physics (ICAMP 2023) will be held in Wuhan, China, and the specific schedule will be decided about a month before the conference. The information about Wuhan is as follows: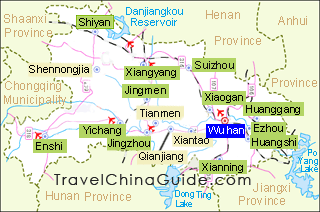 Chinese Name: 武汉 (wǔ hàn)

English Name: Wuhan
Population: 12,000,000
Area: 8596.15 square kilometers (3318.99 square miles)
Location: in the west of Hubei Province, central China
Administrative Division: 13 districts; 1 county; 1 county-level city
Area Code: 027
Zip Code: 430000
GDP (2021): CNY 1771.676 billion (USD 254.457 billion)
China's Main Industrial & Transport Center

Wuhan, the capital city of Hubei Province in central China, is situated on Jianghan Plain, a river-crossed fertile land created by the Hanjiang River joining the Yangtze River. This is a routine port for a Yangtze River cruise. Divided by the Yangtze, Wuhan is known as the 'Three Towns of Wuhan' with Hankou and Hanyang on the west bank, and Wuchang on the east.
Being an important industrial base in China, Wuhan has developed a complete industrial system of iron and steel, automobile, optoelectronics, chemical industry, metallurgy, textile, shipbuilding, manufacturing, and medicine. This city is also China's main transport hub as its high-speed rail network radiates most cities of China and flights to the world. It takes about 5 hours to Beijing, Shanghai, Chongqing, Shenzhen and Hong Kong by train while there are 40 direct overseas routes to four continents. Moreover, Wuhan is an important science and education City in China. The number of colleges and universities ranks third in China.
Beautiful cherry blossom, wonderful lake and river views and abundant snacks all add unique charm to Wuhan. In March, cherry blossoms in full bloom in Wuhan University and Mo Mountain attract tourists from all over the country. And the picturesque East Lake and night scenery of Yangtze River will make you intoxicated. All kinds of breakfasts in Hubu Alley are particularly attractive. A bowl of Hot and Dry Noodles is an indispensable delicacy in the life of Wuhan people.